Sociology of Migration Committee was established in 2019 as an initiative of Katarzyna Andrejuk and Aleksandra Winiarska. The rationale of the new Committee was a growing popularity of migration research among sociologists in Poland, which was reflected by a high number of papers submitted to the thematic session of the Sociological Congress in Wrocław (2019) "Durability and liquidity of international migration: circulation, settlement, integration of migrants".
The Committee is a platform of discussion and exchange of information for migration researchers. Information about our meetings and other events related to migration studies are disseminated through the Committee's Newsletter, as well as the Committee's profile in social media.
Management Board:
Head of the Committee: Katarzyna Andrejuk (Institute of Philosophy and Sociology, Polish Academy of Sciences)
Deputy Head of the Committee: Marcin Gońda (University of Łódź)
Deputy Head of the Committee: Aleksandra Winiarska  (University of Warsaw)
Email: socjologiamigracji.pts@yahoo.com
Facebook:
https://www.facebook.com/SocjologiaMigracjiPTS/?modal=admin_todo_tour
SEMINAR SERIES "MIGRATION MONOGRAPHS"
October 2019
Discussion about a book by Izabela Grabowska "Otwierając głowy. Migracje i kompetencje społeczne"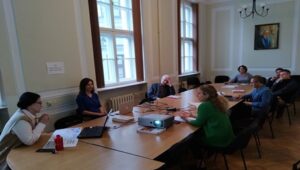 22 January 2020
Discussion about a book by Magdalena Wnuk, "Kierunek Zachód, przystanek emigracja. Adaptacja polskich emigrantów w Austrii, Szwecji i we Włoszech od lat 80. XX w. do współczesności"
8 May 2020
Discussion about a book by K. Łuczaj, B. Bielska, O. Kurek-Ochmańska, J. Mucha  "Osiadłe ptaki. Urodzeni za granicą pracownicy polskich instytucji akademickich"
10 November  2020
Discussion about a book by Marta Woźniak-Bobińska "Współczesna diaspora asyryjsko-aramejska w Szwecji"
INTERCOMMITTEE CONFERENCE
On 5-6 November 2020 we organized an international conference "Social Change in the 21st century: Youth-Family-Economy-Migration".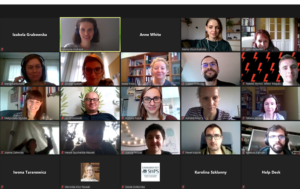 The Conference was co-organized by fur committeed of the Polish Sociological Association: Sociology of Migration Committee, Sociology of Youth and Education Committee, Economic Sociology Committee, Sociology of Family Life and Intimacy Committee
Conference website with detailed programme and abstracts:  https://conferencesocialchange.wordpress.com/
NEWSLETTER
Sociology of Migration Committee issues a Newsletter devoted to migration studies. If you wish to receive the Newslletter, please contact us:  socjologiamigracji.pts@yahoo.com
SPECIAL ISSUE OF MIGRATION STUDIES – REVIEW OF THE POLISH DIASPORA
A bilingual special issue of "Migration Studies – Review of Polish Diaspora", containing texts by members of the Committee, got published in 2020.  The main theme is "Sociology of migration before and during the pandemic". All articles are open access:
https://www.ejournals.eu/Studia-Migracyjne/
Attachments
News
There is no message to be displayed. We invite you soon.